Parcel in Szybka Paczka point. How long will it wait.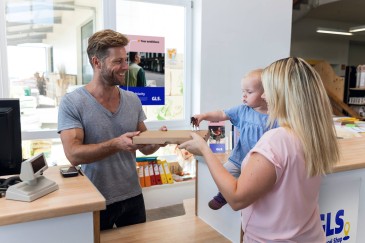 There are about 4.5 thousand GLS Fast Parcel Points in Poland where you can pick up your parcel. How long does it take for a package to get back to the sender? Find out how to redirect a parcel, how the search engine of delivery and pickup points works and what their opening hours are.
Some recipients immediately redirect the package to the Fast Track parcel delivery point - it is free and simple solution, below you will read how to do it. It also happens that the courier does not find anyone at home and delivers the parcel to the nearest point. And how much time does the Recipient have to pick up the package from the GLS point? How long will the parcel wait for us?
For sure there is no need to rush it, unless someone can't wait for what is inside. But this is actually the only reason to hurry. There is really a lot of time to calmly receive the parcel from the Fast Parcel Point.
What is the time frame for receiving the parcel?
You have up to seven consecutive days to pick up your package at a GLS point.
Then the package is returned to the sender.
You can pick up your package at the point using a PIN code.
How do I redirect a parcel?
FlexDeliveryService offers a number of options. Within this service, forwarding of a package is free of charge.
A simple form can be found on our website. Simply enter your tracking number and the zip code of your original delivery address.
You can redirect the parcel to a Szybka Paczka Point.
You may also choose to leave the parcel at a designated location without the recipient's signature.
You can also change address or delivery date.
If the sender entered the recipient's phone number when shipping the package, InfoCourierService is also available. Thanks to it you have the possibility to contact the courier directly and arrange the delivery details.
GLS delivers packages on working days from Monday to Friday. The parcel can also be delivered on Saturday, if the sender requests such a service. Domestic packages usually reach their recipients on the next working day after sending.
Where are the Szybka Paczka points?
Let's focus on a situation where a parcel arrives at one of the Szybka Paczka points. This is a dense network of parcel delivery and pickup points, which is constantly growing. These points operate all over Poland.
They are located in different kinds of stores, big and small, as well as in service points (so called shop-in-shop system).
Their locations have been chosen to be easily accessible. Parking spaces are available in their vicinity. At these points you can pick up your shipment or send it.
Here you will find a search engine of Fast Parcel outlets and GLS branches.
How does it work?
All you have to do is enter the name of the town, give the postal code or the number of the specific Szybka Paczka Point (ID).
The system will automatically display the nearest locations on the map.
Click the location of your choice to see its opening hours. You will find out how much time you will have to pick up your parcel each day.
The map also allows you to calculate the route from the selected location to a specific GLS point.
Where is my parcel waiting?
You will find out from the delivery note and SMS message. Courier leaves a notification with a package number when there is no one at the delivery address.
You can also check the current location of your shipment using a parcel tracking tool.
Waiting for a package sent via GLS?
Follow this link to track your package from the moment it is shipped.
Simply enter your shipment number or Track ID.
This way, you can track both domestic and international shipments.
In Poland there are already approx. 4 500 Szybka Paczka Points and we constantly increase their number. GLS is an international company - we have over 25 thousand such points all over Europe!
Thanks to that you can quickly and conveniently send or receive a parcel also abroad. The search engine for GLS locations and branches covers our entire European network.
There are also company points
In Cracow, Poznan and Wroclaw there are company points of Fast Parcel. Company points are run directly by GLS and not located in a store or service point.
They offer a wide range of services - you can pick up a parcel, send a cash-on-delivery parcel, buy packing materials, pay by card, cash or BLIK.
The points are equipped with a specially prepared, comfortable place to pack shipments and even a fitting room (if someone ordered clothes online, they can immediately check if everything is ok).
Long-open points
For many people, picking up a package at a GLS point is the most convenient solution. This is because it is possible to pick up the parcel at any time when it suits us. This is facilitated by the fact that each of the points is open at least from 10:00 to 18:00 on weekdays. However, many of them open earlier and also operate until later in the evening. A large number of points are also open on Saturdays.
Such long opening hours of GLS points are of great importance. Thanks to this, you do not have to adjust your plans to pick up (or send) a package. The assumption is that you can do it on your way home or shopping. And more and more people are using the shipping and receiving points.