Fast and reliable – that is how you want to receive your parcel. And that's precisely how GLS wants to deliver parcels on behalf of senders.
Standard parcel delivery
Standard parcel delivery
Ideally, the parcel will be delivered to you personally. Then you confirm its receipt by signing the GLS courier's handheld scanner. Another member of your family or household can also collect the shipment on your behalf.
If nobody is present
If nobody is present
In case you cannot accept your parcel personally, you can give GLS permission to deliver your parcel to a trusted neighbour. If neither you nor a neighbor can accept the parcel (and no additional services were ordered along with the parcel, e.g. CashService), GLS will take it to the nearest Szybka Paczka – if there is one nearby.
The parcel can be collected there within the next five working days. You can see whether your parcel is ready for collection at the Szybka Paczka by using the GLS Track&Trace online tool.
If no delivery is possible – not even at a neighbour or a nearby GLS Szybka Paczka – GLS will take the parcel back to the depot (distribution centre) and undertake a second delivery attempt the next working day.

Notification card
Notification card
If parcel delivery is not possible to the specified delivery address, the driver will leave a notification card. It holds key information, for example the name and place of the GLS Szybka Paczka, the neighbour's address or the GLS depot.

On the notification card is a parcel number. You can use this number to track your parcel online, from your smartphone or alternatively by text message.

Redirection options
Redirection options
If your parcel is returned to the depot, using FlexDeliveryService you can choose:

- Parcel delivery to a GLS Szybka Paczka of your choice,
- Delivery to another address of your choice,
- A second delivery attempt to the originally-specified address – you select the day,
- Collection of the parcel by yourself at the depot, the parcel remains in the depot and is available for collection for seven days; there is no new delivery attempt,
- Refusal of acceptance - the parcel is returned to the sender,
- Issue a drop off permission when the FlexDeliveryService has been activated (also available for parcels to several European countries),
- Parcel delivery in the evening and on Saturdays in various German cities.
Second delivery attempt
Second delivery attempt
GLS will undertake a second delivery attempt if no neighbour is able to accept the parcel and there is no Szybka Paczka nearby. The driver will proceed the same way as for the first delivery attempt. If parcel delivery is again not possible, GLS will bring the parcel back to the depot (distribution centre). It will be returned to the sender after the statutory storage period.
Delivery and transport times
Delivery and transport times
GLS delivers parcels on working days from Monday to Friday – on Saturdays as weff if a sender has booked this service. National parcels usually arrive on the next working day. This standard delivery time is not assured or guaranteed, however. Parcels are transported by road, so traffic holdups can lead to delays.
GLS network Szybka Paczka are parcel sending and receiving points.
They are located in various types of service outlets and shops (so-called shop-in-shop system), so the waiting time in the queue is usually very short. In Poland there are more than 6000 Szybka Paczka GLS points, where you can pick up parcels.
Each of them is open at least from 10.00 to 18.00 on business days, although many open earlier and also work until late evening hours. Please note that Szybka Paczka points located in our branches do not accept parcels for sending on Saturdays.
Collection from Szybka Paczka GLS point will be possible for the next six business days. The parcel can be picked up using a PIN code.
With the advice and SMS you will find out at which Szybka Paczka point you can collect the parcel. You can also get this information using the Track & Trace functionality.
Check the current status by entering a Track-ID with advice. Use the Szybka Paczka point search option to learn more about opening hours and the location of the Szybka Paczka point.
Is it possible to return the parcel without a return label?
If the parcel does not contain a return label, you can make it using the Szybka Paczka GLS network. However, in this case the Szybka Paczka price list will apply. Entrepreneurs running the so-called distance selling (e.g. online or mail order) in Poland are required to accept returns of full-value goods within 10 days, also without giving a reason.
Select options – how and when
With GLS, you have the opportunity to choose from various delivery options before the courier tries to deliver your parcel for the first time. This is possible if the Sender meets certain conditions, including forward GLS to your email address. Then we will inform you electronically about the upcoming delivery and send a link by which it will be possible to use the FlexDeliveryService.
Forwarding a shipment after the first unsuccessful delivery attempt is possible for all GLS shipments, regardless of whether the Sender has provided the GLS Recipient's e-mail address. The courier will then leave a notice with the parcel number necessary to redirect the parcel.
You can choose one of the alternative delivery options as soon as the courier returns to the GLS depot with your parcel. Forwarding is not possible if the parcel has been previously delivered to a Szybka Paczka point or, with your consent, a neighbor has picked it up.
Search Szybka Paczka & Depots
Szybka Paczka price list
The price depends on the size of the parcel, i.e. the sum of the longest and shortest side of the parcel.
There are 5 price categories. The maximum weight of a domestic and international parcel is 31.5 kg.
All prices include VAT.
Size
Longest + shortest side max.
Within Poland
Within the European Union (selected countries)
Euro I
Euro II
Euro III
Euro IV
XS
max. 35 cm
PLN 15.98
PLN 69.00
PLN 79.00
PLN 99.00
PLN 149.00
S
max. 50 cm
PLN 18.00
PLN 75.00
PLN 85.00
PLN 109.00
PLN 159.00
M
max. 65 cm
PLN 23.00
PLN 79.00
PLN 89.00
PLN 129.00
PLN 169.00
L
max. 80 cm
PLN 29.00
PLN 99.00
PLN 105.00
PLN 139.00
PLN 179.00
XL
> 80 cm*
PLN 45.00
PLN 179.00
PLN 199.00
PLN 249.00
PLN 279.00
*Circumference of the parcel plus the longest side cannot exceed 300 cm.
Euro II
Austria, Belgium, Denmark, the Netherlands, Lithuania, Luxembourg, Slovakia.
Euro III
Estonia, France, Latvia, Slovenia, Hungary, United Kingdom, Italy.
Euro IV
Bulgaria, Croatia, Finland, Spain, Ireland, Portugal, Romania, Sweden.
Areas excluded from shipping via ParcelShop: Andorra, Faroe Islands, Greenland, Büsingen, Aaland, Corsica, Guadeloupe, St Kitts, Martinique, French Guiana, Cayenne, Reunion, Saint-Denis, Saint-Pierre and Miquelon, Mayotte, Monaco, Wallis and Futuna, Française Polynesia, Nouvelle Caledonie, Gibraltar, Guernsey, Isle of Man, Jersey, Vatican, Sardinia, Livigno, Sanmarino, Sicily, Madeira, Azores, Balearic Islands *, Canary Islands **, Ceuta, Melilla.
* Majorca, Menorca, Ibiza, Formentera, Cabrera
** Tenerife, Fuerteventura, Gran Canaria, Lanzarote, La Palma, La Gomera, El Hierro.
If you want the GLS courier to pick up your parcel, please send it via GLS ParcelVan.
Reliable parcel delivery
You choose - we deliver!
Decide of the date, place and other delivery details
FlexDeliveryService
Thanks to the FlexDeliveryService, choose and influence delivery according to your needs, both before sending a parcel and when it is already coming to you. GLS offers many different delivery options, so you can get the ordered goods quickly and without problems. You can use your preferred delivery option as soon as you receive an email from the GLS with parcel information.
You will also learn about it when your order will probably reach you together with a three-hour time window.
Thanks to this you will know if that day someone will be able to pick up the parcel. If this is not possible, all you have to do is do a few simple steps: click on the link in the email and go directly to the page with delivery options for your parcel.
Shipments to private recipients become less complicated and customer satisfaction increases.
FlexDeliveryService is available for domestic and cross-border parcels from Poland to Austria, Belgium, Bulgaria, Croatia, Czech Republic, Denmark, Finland, France, Greece, Spain, the Netherlands, Luxembourg, Germany, Portugal, Romania, Slovakia, Slovenia, Hungary, Great Britain and Italy.
Delivery to GLS Szybka Paczka
You can choose any GLS Szybka Paczka as the direct delivery address for your parcel. At the szybka Paczka, there will always be a person who will collect it from the courier. You can make your choice via the Internet. This can be, for example, a point located near your work.
GLS Szybka Paczka have long opening hours, thanks to which the parcel can be picked up at a convenient time. Even if you won't be there for several days, the parcel will wait for you for seven consecutive business days. Just select "Delivery to a Szybka Paczka pickup point", then select the appropriate point and confirm.
GLS will redirect your parcel and deliver it to this point.
Delivery to a new address
You can decide that your parcel will be delivered to an address different from the one provided at the time of ordering, e.g. to the workplace or to a neighbor or family member who will be at home that day.
Just select "Delivery to a new address", enter it and confirm your choice, and GLS will immediately forward your parcel.
Change of delivery date
You can choose any delivery day (note - no later than the 6th day after posting the parcel). Regardless of the deadline indicated, the time frame given in the message remains unchanged. Just click on "Delivery on a selected day" and confirm your selection and GLS will deliver the parcel within this time.
E-mail notifications
Always be up to date and decide on the delivery terms yourself
GLS informs the recipients of parcels about the upcoming delivery via e-mail, giving them the opportunity to choose between many delivery options. This is possible both before the parcel is physically forwarded to GLS, and after it sets off.
Ordered goods will reach you faster and their delivery will be more convenient, since from now on you can influence the place and time of delivery. This will avoid a situation in which the parcel will not reach you due to the absence of any of the household members.
Your benefits at a glance:
You receive information before shipping begins
You know the approximate delivery hours in advance
You can go to the choice of delivery option directly from the email by clicking the appropriate link (the content of the message is given in the language of the country to which the parcel is addressed)
You do not need to register or log in to the GLS website
You can choose from many delivery options, just a few mouse clicks
First email - when the goods are ready for shipping
The company where you ordered the goods prepares the parcel and sends the data for the shipment to GLS, including your email address and mobile number - if you agreed (by accepting the sender's regulations or during the ordering process). You will then receive an e-mail with information about the standard delivery date along with the expected three-hour time interval (in most cases). If you know that no one will be able to pick up your shipment within the given deadline, you can then choose alternative delivery options.
Second email - when the parcel is on its way
As soon as GLS receives a ready parcel from the Sender, it will be possible to determine the exact day of delivery. You will receive another email in which both the estimated delivery date and the appropriate time frame will be given. This information will be based on our knowledge and experience, but it will not always be binding, as there are cases when traffic jams and heavy traffic delays trucks or courier cars. E-mail correspondence after delivery or attempted delivery
GLS ensures that you are always well informed - which is why you also receive a message at the end of the delivery process. You will receive it regardless of the chosen delivery option.
From them you will learn that the parcel:
was delivered to the address provided,
has been left in the indicated place (option also available for several European countries),
was delivered to the previously selected Szybka Paczka point,
could not be served
was delivered to a Szybka Paczka point after a failed delivery attempt,
was delivered to a neighbor.
Important information
GLS will send e-mails to you if the sender of the goods - for example, the owner of an online store - meets the necessary conditions, e.g. uses one of the GLS shipping systems and provides your e-mail address.
Cash on delivery - non-cash forms of payment
Those receiving CashService (COD) shipments can use the following forms of non-cash payment:

payment by card at the courier
payment by BLIK code
If you are not satisfied with any aspect of the services provided by GLS, please let us know. Because we attach great importance to reliability, the percentage of damage and loss in GLS is constantly kept at a very low level. However, if you are not satisfied with our services, please telephone contact with our hotline.
To be sure that your application will be processed quickly, please provide your parcel number or Track-ID with advice. Thanks to this we will be able to take care of him as soon as possible.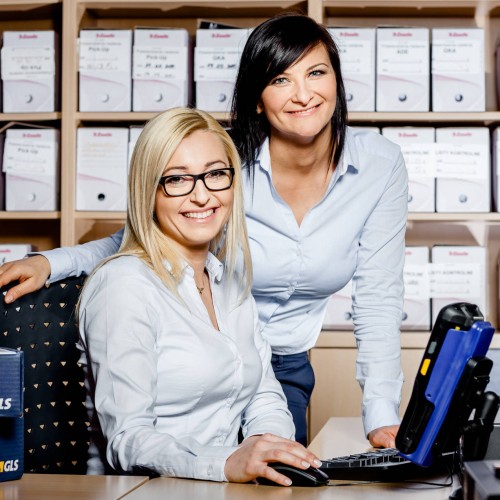 Contact
GLS contact line
payment according to the rates of the caller's operator
What should I do if the parcel is damaged?
The sender is responsible for the correct packaging of the goods. If the parcel has any external damage, such as a torn cardboard, you can refuse to accept it. GLS will take the parcel to the depot and inform the sender that the complaint must be submitted by him.
If you have received the seemingly intact parcel, then it turns out that the content is damaged, the complaint must be forwarded to the sender. This is due to the fact that GLS cannot and cannot check the contents of parcel sent. The confidentiality of correspondence also applies to GLS.
How should a complaint be made?
Every day GLS transports over 1.5 million parcels throughout Europe. The scope of security measures taken allows the percentage of damage and losses to be kept constantly low. As a result, it is below 0.01 percent. However, it may happen that the shipment is damaged. For example, if you see a torn cardboard or liquid leaking from it, you may refuse to accept the parcel.
If you do not collect the parcel, a complaint must be made. GLS will consider the complaint directly with the Sender. If you picked up the seemingly intact parcel and later it turned out that the content is damaged, the complaint should be directed to the sender, because he will be responsible for further action in this case.