We have a holistic approach to sustainability
People and the environment we all live in build the focus of our responsibility. We take this responsibility towards employees, the society and the environment very seriously. Therefore, we actively engage in fairness, education and a minimal impact on the environment.
By achieving these goals, we also contribute to the mobility and reliable availability of goods, which, in turn, constitute the backbone of the economy. Our goal is to attain sustainable commercial success whilst protecting the environment for future generations.
Materiality analysis - Your opinion is important to us!
With our materiality analysis we aim to find out what you think about sustainable development in the environmental, social and corporate governance areas. We are already doing a lot in all these areas at GLS, and we want to do even better. For you and for all people who are connected with GLS in some way.
What is important to you? What are we doing well? Where can we improve? Participate in our short survey, it is anonymous and takes no more than five minutes. We look forward to your feedback!
Social commitment to carbon-neutral shipping: our responsibility
As a parcel service operating worldwide, GLS is aware of its responsibility – towards the environment and society. This is why we actively support people and environmental protection through various initiatives and campaigns.
For us, sustainability means, among other things, continually moving towards carbon-neutral shipping. But we are also committed to our customers, employees and partners. We also see ourselves as responsible for society and for people in need.
Reliability
Security
Transparency
Flexibility
Sustainability
Helping where help is needed
We want to help where people need help and are therefore ORF-LICHT INS DUNKEL emerald partner.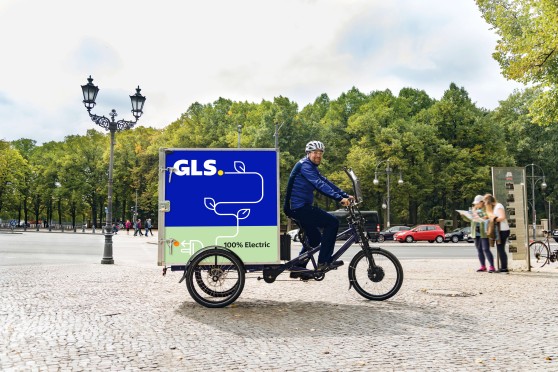 Vehicles for climate-neutral shipping
Our long-term goal: carbon-neutral shipping of parcels. By gradually switching over to environmentally friendly vehicle models, we are reducing the greenhouse emissions of our fleet. GLS Austria increasingly relies on electric vehicles for delivery: In cities such as Salzburg, Linz and Graz eBikes or eScooters are already in use – for sustainable and efficient delivery.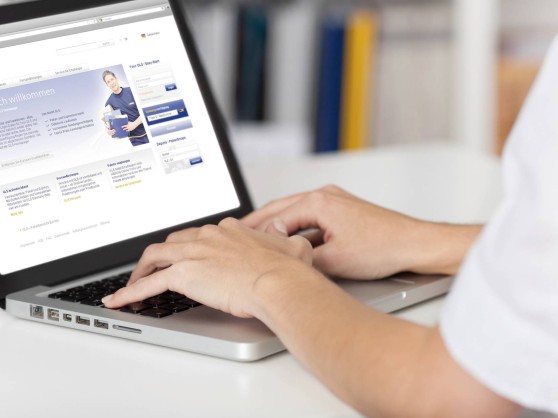 Efficient transport planning
In order to keep transport routes as short as possible, we consistently optimise route planning by using modern, IT-supported planning instruments. For better fuel efficiency – and therefore more environmentally-friendly shipping.
Sustainable sites
Whether constructing new buildings, or replacing and expanding old ones, environmental aspects are always one of our top priorities. Measures such as the use of rainwater, recyclable building materials, heat pumps and photovoltaics help protect the environment in a sustainable manner.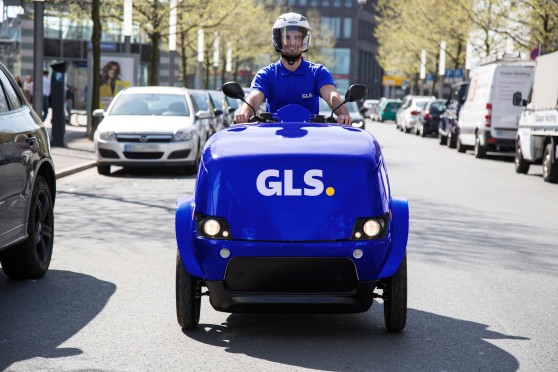 Environmentally friendly in everyday life
And it's not just the carbon emissions associated with shipments and construction work that GLS is turning its attention to. By converting to digital processes in many areas, we avoid unnecessary waste - for example, for invoices, consignment notes and acknowledgements of receipt. And instead of long business trips, we often opt for more environmentally friendly video conferencing solutions.
ThinkSocial: social engagement
We are committed – to employees, partners and people in need of our help. GLS Austria supports various selected initiatives and social projects throughout Austria. This is our way of making an active contribution to the community.
Children's cancer aid: Cheering up sick children
Every year our GLS Austria Advent calendar provides a welcome change at the children's cancer ward at the Linz General Hospital. Last year, our sales manager Eberhard Thiele presented the advent calendars to the little patients once again. GLS Austria regularly surprises children with small gifts, both at Christmas and at Easter.
Help in need
Support for women in emergency situations: In recent years, GLS Austria has supplied the residents of the Miriam House with two new sofas, a high-quality barbecue as well as cinema vouchers, shower gel and summer packets. For many years the House Miriam has offered women in emergency situations a place to stay, thereby supporting Caritas.
Support for homeless young people
The "Klagenfurt Emergency Youth Shelter" (Juno) makes an important contribution for homeless young people, offering them safe food and accommodation. GLS Austria is helping out – and presenting the residents with sports bags packed with bath towels, drinking bottles and thermos mugs.

Compliance
We attach great importance to compliance with legal regulations and our self-imposed ethical standards: This, too, is part of our responsibility – because this is the only way to create cooperation based on trust.
GLS has implemented a Group-wide programme to systematically identify compliance risks and avoid them structurally
Compliance with economic sanctions
Money laundering prevention
GLS Group Environmental Standard
GLS Group provides reliable and high-quality parcel services. In order to continue to guarantee this, the conservation of resources and the reduction of our emissions are of central importance to us. Together with our employees, customers and suppliers, we want to become one of the leading providers of sustainable parcel services.
Ombudsman
The GLS Group has established a whistleblower/ombudsman system to enable employees, business partners and third parties to confidentially report information on criminal offences and similarly serious offences. Our ombudsman is available as a contact person for all employees, business partners and third parties.
Dr Buchert is not responsible for complaints that do not concern criminal offences or similarly serious offences. In cases of doubt, he advises whistleblowers on how to proceed.
The obligation for attorney-client confidentiality and the right to refuse to testify ensure that an informant's identity is not disclosed. Information given to the ombudsman will only be passed on to the company with the whisteblower's express permission. Contact with the ombudsman is also already protected. Further information on whistleblower protection can be found at
www.dr-buchert.de
In addition, there is of course still the option of contacting the respective superior or known GLS contact persons directly.
Herr Rechtsanwalt Dr. Rainer Buchert
Ombudsman
Certifications
We officially test quality and sustainability according to internationally recognised standards. Our Europe-wide quality and environmental management system is certified by DQS according to DIN ISO 9001:2015 and 14001:2015.
Sustainability Report
In our sustainability reports we provide information about our diverse sustainability activities in all GLS national companies.
Data Protection
GLS takes your privacy and data protection seriously.
Find out more.
Our partners – strong together
Find out more about our partners. Whether a transport partner, ParcelShop operator or supplier: They all play key roles in the GLS network and contribute greatly to the high quality of our services.